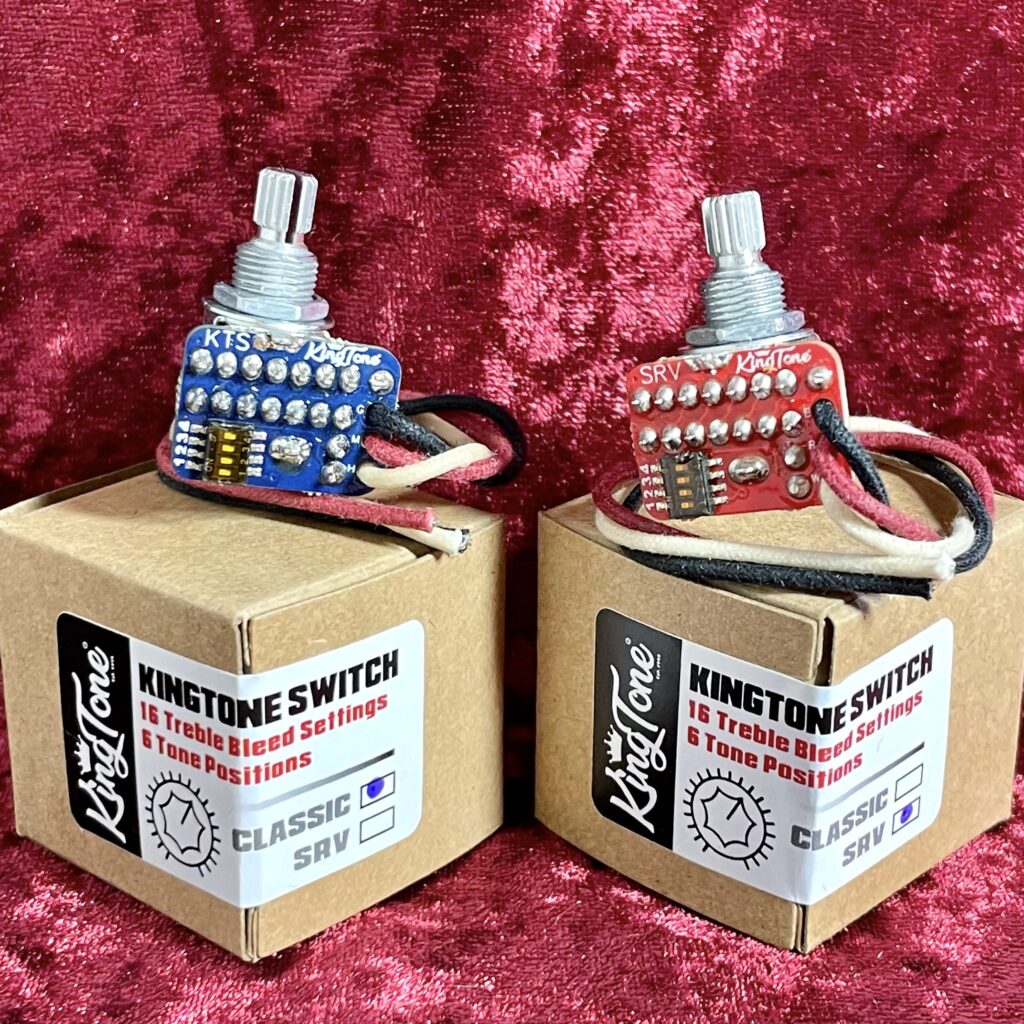 Kingtone Switchは、あなたのギターへ新たに6トーンポジション、16トレブルブリード設定を可能にするトーンコントロールスイッチです。100%パッシブで、バッテリーは必要ありません。取付けは非常に簡単でボリュームポットに接続するワイヤーはわずか3本です。
トーンに太さとエッジを追加し、より良いビブラートの追従性、チョーキングがより明確になり、そしてエアー感も追加します。
"CLASSIC"と"SRV"の2タイプがあります。
"CLASSIC"
1. True Bypass, Your Normal Tone Is 100% Un-Effected
2. Treble Bleed Engaged, When you Roll Your Volume Down You Will Retain The High End, No More Dull Tones
3. Hendrix Edge Added, Fuller, Warmer More Focused Tone
4. 100% Vaughan, Tubey Bite, Lots Of Attack, Fat, Warm
5. Albert – What Can I Say The Switch Was Named After Him
6. BB – Extremely Fat and Thick But Still Has Top End Bite.
"SRV"
1. True Bypass, Your Normal Tone Is 100% Un-Effected
2. The Bite Is Added. Tone Warms Up.  Fatter. Great Vibrato Tracking, Early 80s SRV Tones
3. 100% Vaughan, Tubey Bite, Lots Of Attack, Fat, Warm
4. Tokyo 1985 Setting, Bite and Warmth for Days
5. Darker, More Edgy. Slow Blues, Think 'In Step' Style
6. Albert – What Can I Say The Switch Was Named After Him
16 Treble Bleed Settings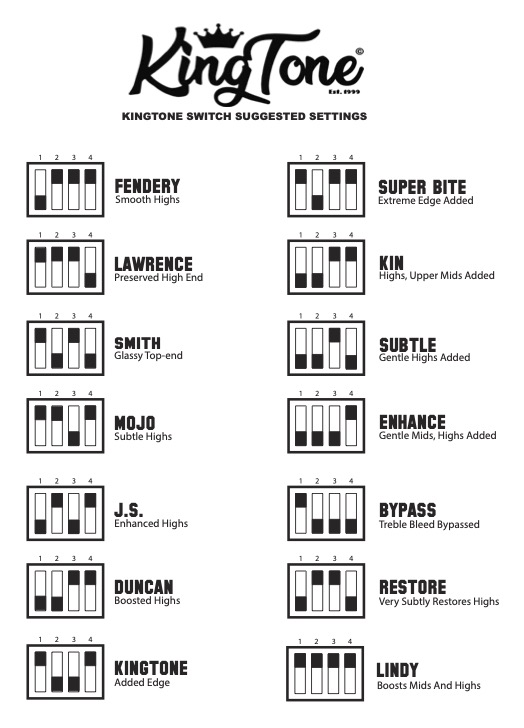 SRV系トーンを追求されている方に是非ともお試し頂きアイテムです。
また、KingToneペダルの良さをさらに引き出すのでKingToneペダルユーザーにもお勧め致します!
※アクティブピックアップには推奨致しません。
売価:14,000円(税別)